UP CLOSE AND PERSONAL
by PHILLIP DAY
PART 9 – BOOMS ARE JUST THE BEGINNING. THE WORLD IS WATCHING.
The hot August continues!
THE CABAL'S WAR
to scare world populations into accepting a Communist global New World Order (the "New Normal") under cover of a fake global COVID pandemic moved into a full-view BOOM phase this week – literally - with
The huge explosion in Beirut
A gas boom in North Korea
A major fire in the UAE
A conflagration in Najaf, Iraq
The World Trade Center fire in Brussels
This weird stuff happening in Shenyang, China
Major blast in Baltimore with victims trapped
A port explosion at Newhaven, Sussex, England
Swansea University, Wales, on fire – Hillary Clinton's honorary alma mater
A luxury yacht bursts into flames at Ermoupolis, Greece
A hospital fire in Andhra Pradesh, India
A multi-explosion factory fire in North Melbourne
An inferno at an Abu Dhabi building
A blaze at Birmingham, England
And a major burn at a UNICEF warehouse in Kinshasa, Congo.
And God's not been happy: we've had a destructive flash flood hitting the Spanish village of Estepa, a volcanic eruption in Indonesia, and some bizarre lightning capping off over China.
About the only thing we didn't get last week was aliens.
In the aftermath of Beirut, questions have been asked, though not by the Hezbollah-backed Lebanese Cabinet, which has resigned over the incident:
"Was it nuclear? Was it fertilizer? Was it an arms depot?"
The evidence seems to point to a massive Hezbollah arms dump kicking off – Israel denies all responsibility. A false flag by the Cabal? Investigators discover underground panic rooms or tunnels at the explosion site. UNICEF states up to 80,000 children may have been displaced by the blast. UNICEF? Children? Don't go there.

Meanwhile…
COVID FAKERY
Masks continue to dehumanise those wearing them. Rebreathing bacteria can cause pleurisy and other infections. After seeing what these face nappies can do to others during the course of a few days, this little girl has had enough.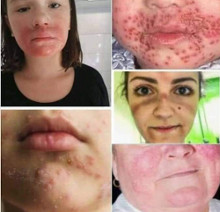 Dentists also say 'mask mouth' can cause serious health complications, including strokes. Yet Lake Tahoe authorities are ordering everyone to wear masks inside and outside! "6200 feet up in the fresh air...disgusting! Such sheep! Use to be a happy place, No more!"
And Boris… oh Boris. Major fines up to £3,200 for those not wearing masks in shops or on public transport. You can stuff it, Boris. I DO NOT CONSENT. See how you are being TRAINED to take the vaccine?
JOE BIDEN yesterday: "Every single American should be wearing a mask when they are outside for the next three months at a minimum." "The estimates by the experts are it will save over 40,000 lives." "It's not about your rights. It's about your responsibility!"
Sure to be a vote-winner, Joe. Not sure, though, about telling us about how children like stroking your hairy legs.
AUSTRALIA
A girl is caught without a mask in Melbourne – gasp! She's not even given a chance to show her exemption certificate before a Police Nazi practically strangles her. Prepare for fruity language.
While the state of Victoria appears to have surrendered to China already, and the population slopes meekly back into a 'stage 4' lockdown (sheesh), 79% of Aussie citizens overwhelmingly reject mandatory vaccination in an online Facebook poll, in spite of the media narrative elsewhere, which includes a public advisory to moderate your behaviour when out and about, as using a loud voice or bursting into song can cause the virus to spread.
LESSON #1: This was never about any virus. It's about how far they can push you before you start pushing back.
LESSON #2: Wake up the sheep around you. DO IT. NOW.
NEW ZEALAND
It's worse across the Tasman Sea, where Auckland has been put back into lockdown by Jacinda Ardern after the first 'virus case' in 102 days. New Zealand now has "quarantine camps". Yes, folks. "Mandatory quarantine will apply to both new cases [fake positive tests] and, if necessary, close family members who might be at risk", with forced removal from your home to a camp if you do not comply. And if you refuse to be tested? Vell, you vill NOT!
IRELAND
Latest figures from the Emerald Isle beg the question: WHAT PANDEMIC?
IRELAND! GET REVOLTING!!
MEANWHILE IN BRITAIN…
The Churchill spirit is stirring, thanks to the hot weather. As millions of Brits made for the beach this week and said b***ocks to unscientific and cringey 'social-distancing', the Daily Fail made the fatal error of levelling criticism against the populace. Look, it's quite simple, Geordie Grieg. Don't get between a Brit and his football, a Brit and his beer, or a Brit and his beach. Or you will know pain. In fact, I do believe there's an indictment with your name on it....
Like Serbia and Germany, The Cabal government and its lapdog media have a fight on their hands in Britain against a daily growing, belligerent opposition now cognisant of how the pandemic hoax was sprung, as well as what's been happening to their children, and who's been doing it.
65% of Britons would 'go to prison before being injected', and there will likely be a bloodbath if authorities make the attempt, especially on our children. Medical staff and nurses can no longer be silenced. As the COVID hoax unravels, and the media narrative on mandatory vaccinations stiffens, many are learning that these cabal criminals may be guilty of other crimes, such as the 1918-1920 Spanish Flu 'pandemic' they are always so keen to reference.
Millions are horrified to discover the nature of a key ingredient used in vaccines. "When Planned Parenthood was exposed for selling body parts in 2015, it seemed like a macabre, hyperbolic parody of the abortion giant, but the fact is that cells from aborted babies have been harvested and used for decades." How many aborted babies have been used in your vaccines, Mr Gates?
That would be… how many millions?
AMERICA
"If we lose freedom here, there is no place to escape to. This is the last stand on Earth." — Lieutenant General Michael T. Flynn.
Of course, as the last crucible of anything remotely resembling citizen freedom, the United States of America is what the Cabal fears most, for if the Cabal is vanquished in America, the cure will immediately ripple out across the world, and we can be free.
This has singled Uncle Sam out for special attrition. The American citizenry is impressively well armed, and its government controls the strongest, most well equipped military on Earth. It always had to be taken from within.
So at the same time that America undergoes the same fake attack with COVID and rebels against it, the Cabal attempts a Marxist insurgency and destruction of cities such as Portland, Chicago, New York and Minneapolis, closely allied to and run by traitors in the Democratic party, whose influence goes all the way to the top.
Opposing them is President Donald Trump and his political entourage, most of the military, and an army of 100 – 200 million QANON digital warriors worldwide who have a message for every citizen on Earth. Trump is allowing the Cabal to show its hand to the sheep; the sheep need to be awakened for a future of a far better kind to be secured.
Trump is using the Rothschild Federal Reserve system he took over in March, along with asset seizures from the illicit drug and human trafficking trade, to provide stimulus packages for the beleaguered citizenry, obtaining job scores and stock market performances that are unprecedented given the COVID circumstances.
The QANONS have succeeded in exercising such control over the national and global narrative on a range of topics that Facebook, Twitter and Google/YouTube have been frantically taking down Q accounts to dent their influence. A kamikaze move. Blatant censorship not only destroys the social media giants' claim to their Section 230 publishing immunity, it doesn't stop the ANONS, who merely register new accounts under a different name, regain their followers, and carry on as before.
The mainstream media doesn't know what to do. This is what media panic looks like. And this. And this.
Joe Biden announces Marxist Kamala Harris as his VP nominee. Whoops. Firstly, Biden's mental state will almost certainly ensure that he is replaced before the election. Second, immediate doubts are raised over her eligibility to be president because – wait for it - Article II of the Constitution specifies that "[n]o person except a natural born citizen… shall be eligible to the office of President."
Gateway Pundit reports that, "Harris's father was (and is) a Jamaican national, her mother was from India, and neither was a naturalized U.S. citizen at the time of Harris' birth in 1964." This of course will pave the way for her birth certificate to be scrutinised. Which in turn will return scrutiny to another person's birth certificate and presidential eligibility – that of Barack Obama. And that's when the bats will really fall out of the belfry.
The Cabal's attempt to start a race war with Trump has also spectacularly backfired, since minority groups are not only the ones directly benefiting from the federal stimulus packages, they can easily see through the scam of the BLM white liberal guilt championed by Obama, the Clintons, Creepy Biden and their ilk, whom Trump now openly accuses by name of treason on prime-time TV. Treason will be the least of their worries on a number of accounts, as shall be revealed in the coming months, not least because of
THE CHILDREN
This week has seen an explosion of public awareness over the emerging worldwide child and sex trafficking atrocities, with #SaveOurChildren and #SaveTheChildren trending on Facebook. Predictably, the social media site temporarily suspended them for 'violating community standards', blaming QANONS for hijacking the hashtags, pedalling 'a baseless QAnon theory that "there's a 'deep-state' with ties to a child sex trafficking ring." Which is rich, considering a New York judge just rejected Ghislaine Maxwell's latest request to delay unsealing of explosive court documents, potentially involving Bill Clinton and Prince Andrew. Prepare for more revelations.
Meanwhile, two serving NSW police officers have been refused bail after being charged with attempted rape and the production of child abuse material in Australia. Yet the US Supreme Court just made pedophilia a protected class, subject to Congressional approval. One commentator laments: "The ever-growing alphabet soup that is the LGBTQ movement has been hijacked, and at some point it will openly and shamelessly have 'P' added to its acronym. The letter 'P' stands for pedophile. It is already there but instead of a 'P' it's a '+' . Their motto is, 'all love is love'…. [viz] the constant TED TALKS about how it's a sexual identity, and the NY Times pushing that notion in their article entitled, 'Pedophilia is a Disorder, Not a crime…' "
In a world beset with contradictions and a moral compass that lies shattered by the roadside, it may be the most innocent among us – the babies and children - who are destined to become the unifying factor. Perhaps even, a kind of redemption.
In the meantime…
Are you ready to become RAVENING wolves against those who enslaved you?
PREVIOUS REPORTS IN PHILLIP'S WW3 SERIES
SITUATION REPORT PART 1 – COVID SUMMARY

SITUATION REPORT PART 2 – DEEP STATE SUMMARY

SITUATION REPORT PART 3 – THE ENEMY BECOMES DESPERATE

SITUATION REPORT PART 4 – OPERATIONS ONGOING: EYES ON

SITUATION REPORT PART 5 - THE DAM IS BREAKING, ENOUGH MUST SEE

SITUATION REPORT PART 6 - AUGUST WILL BE 'HOT' – MASKS AT THE READY!

SITUATION REPORT PART 7 - WELCOME TO THE RECKONING. IT'S GOING TO BE BIBLICAL
SITUATION REPORT PART 8 - AUGUST ON FIRE. DEEP STATE IN TOTAL PANIC
WANT TO JOIN THE RESISTANCE?
Credence has a research group on the uncensored platform MeWe. It's easy and fun to use, and you'll be part of the action as it unfolds in real time.
Here's how to join:
Go to www.mewe.com. Set yourself up with a personal profile complete with pretty picture. Notice it says FREE FOREVER, so don't sign up for the premium thing, and skip the free trial.
Then enter https://mewe.com/join/credencehealth in your browser (not the MeWe search window!) and apply to join. Admins will then add you to the group.
Bring all your friends with you. Hundreds have done so already, so if you're not sure how to do it, any one of your colleagues on this group will be only too happy to help.