UP CLOSE AND PERSONAL
by PHILLIP DAY
PART 13– ALL IT TAKES FOR EVIL TO TRIUMPH IS FOR GOOD MEN TO DO NOTHING
The Cabal's war to scare world populations into accepting a Communist New World Order under cover of a fake global pandemic continues to struggle as more of its members and tactics are hauled out of cover and into light. Here are the stories that made the REAL news this week.
THE COVID HOAX
Victoria/Australia premier Daniel Andrews is still ruling his Communist state like a Grizzly on steroids, upping the number of aged deaths in care homes to maintain the COVID lie. His lickspittles in the media continue to downplay the huge numbers and magnificent spirit of the Aussies showing up in peaceful protests.
It turns out that Dan Andrews signed Victoria up to the Cabal's Strong City initiative, which does what it says on the tin: It's a plan to run a civic society with the clunking fist. This shameful photo will go down in history as the day Victorian police goons prevented a courageous group of people from holding a peaceful protest for freedom.
Fascism, tyranny and arresting an elderly woman for sitting on a park bench used to be unimaginable in Australia. Today this is healthcare, Victorian style, though the chief medical officer never 'asked' for the draconian curfew.
Glad everyone down there is feeling healthier thanks to this sort of behaviour!
Meanwhile in Britain, our dumpster fire of a government is granting us citizens a final week to express our views on proposed changes to the Human Medicine Regulations. This is "to help with the safe and efficient distribution of the lifesaving COVID-19 vaccine and expanded flu vaccine programme in the UK, along with treatments for COVID-19 and any other diseases that become pandemic."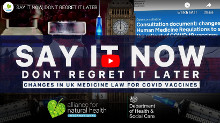 This consultation closes at 11:59 pm on 18 September 2020. IT'S IMPORTANT THAT AS MANY PEOPLE AS POSSIBLE REGISTER THEIR OPINIONS. The Alliance for Natural Health has some templates you can use and some helpful tips. PLEASE DON'T IGNORE THIS.
THE 'RULE OF SIX'
In a further example of bovine stupidity, Boris Johnson announces that gatherings of more than six people across the country will be banned from Monday – a ruling that could last six months and, of course, ruins Christmas which was the intent. There will be £100 fines for perpetrators, rising exponentially for repeat offences up to £3,200. Sounds like they don't want any more protests. Bad luck, Boris.
As if you never saw it coming, a new breed of COVID Gestapo 'marshals' are being recruited by councils as we speak to enforce the new numbers game indoors and outdoors. Yes, banging on your door after sundown to count the number of people huddled in front of EastEnders sucking on Pot Noodles will be the Goon Squad in their size twelves.
Your friends think it's great! "Stop complaining! We must control the virus! As long as we do what they tell us, everything will be fine!"
OOO-kay.
Then again, schools, weddings and funerals are exempt from the six-people thing. Boris says you can have up to thirty.
Eh?
Wait, Just in. COVID marshals will have no powers to arrest or fine anyone. Just advise. Really? Have you seen Maidstone on a Friday night? Good luck advising that.
I have two questions:
Q1: What kind of moron becomes a COVID Compliance Marshal?
OK. Just like I pictured.
Q2: What kind of person still believes that as long as we do what they tell us, everything will be fine?
OK. Just like I pictured.
Meanwhile, until Monday's rule cuts in, the killer virus will run rampant, but knows not to attack people at weddings (up to 30 allowed), but will bypass home groups of 6 and attack groups of 7 or more.
I know, I know. If anyone is having difficulty working out these new COVID rules, Jacqueline has broken them down for you.
Britain could even be put under a CURFEW with businesses shuttered from 10pm in a bid to drive down cases 'after the move worked in Belgium'. Because we all know that 10pm onward is when the virus is at its most beastly.
It's obvious to me that Boris is working from a script he's been given. Same with Hancock and the others. As I've said before, the aim appears to be to heap the most divisive and dim-witted mandates onto the public deliberately to raise outrage for some ulterior reasons I'll cover later.
Meanwhile another group of doctors - this time representing over a 1,000 physicians worldwide - declares COVID-19 not only to be a hoax, but the Crime of the Century - the fourth time this type of scam has been perpetrated on the world in twenty years. In fact, the fifth time. I'm tossing in that supreme emblem of medical idiocy, HIV/AIDS, which the world bought hook line and sinker as well, because the BBC and Jeremy Vine told them to.
Watch my lips. There is no pandemic. For COVID with proper symptoms, read 'flu'. SARS-CoV-2 has NEVER been gold-standard-isolated, mapped and ever proved the guilty party according to Koch's Postulates. The serial falsification of death certificates aside, the death rates are negligible (it's the flu), and 'coronavirus' is about as dangerous as having a bath, according to these experts.
You've been played. I know it's hard and you don't want to look a fool.
But you've been played. In fact, masks are a type of ritual public shaming, similar to the Marxist playbook being rolled out by BLM, Antifa and Extinction Rebellion. Did you know that? No-one's wearing N95 medical masks. Big clue.
Yes, I saw you in that mask. On your own in that car. The mind control works. Hey, you might need this.
Don't. Just don't, OK?
And this breaks my heart. And so does this. How are there not heads on spikes up Whitehall and millions beating down the doors of governments around the world, instilling fear in the guilty? This barrister encourages everyone to get active NOW.
But.. but… what about those exploding positive cases in regional hotspots? What about the FINES??!
YOU'RE BEING PLAYED!!!!! All right, one more time. We're told the positive tests (which are unscientific nonsense) represent an increase in 'infections' (ha!), which is what happens if you scam frightened sheep into getting tested for the greater good, then decide what result the test will show. We dealt with this scam last week.
Result? 38 MILLION Brits in 'low or no COVID areas' will now be forced to live under the 'rule of six' because small pockets of Britain are deemed at risk caused by fake testing. But zero deaths.
You've been victim of the greatest psychological operation in world history. Sorry. It's time to snap out of it and join the Resistance.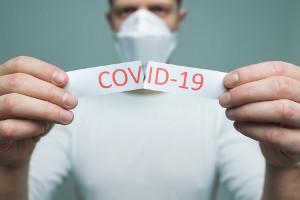 By the way, bet you didn't know they were distributing COVID-19 tests worldwide back in 20 17 and 2018! What do you think of them apples?
A little bird tells me Boris is going to lock the country down again.
I think he's been ordered to.
"Whaat?" "By whom?!!"
All in good time, my little chou-chou.
Next, I need to tell you I get emails all the time on –
THE VACCINE FROM HELL
"Are they going to force us to have the shot?"
Well, if they do, there's going to be a bloodbath. The UK government is owning up to this level of vaccine scepticism but the real figure is far higher. No-one wants the bloody thing. For those who still think the jab's a good idea, watch this.
The evil ones (Chinese Communist Party, Gates, Fauci, Birx, etc.) were all pumped up about the vaccine they were going to push on the world to fabulous profit. They gleefully admitted the manufacturers are indemnified against any side-effects and deaths caused by the wretched thing. Then a mid-week catastrophe! Oxford and AstraZeneca's COVID vaccine trial grinds to a halt after a British volunteer suffers a 'serious' reaction that 'could' have been caused by the injection.
AstraZeneca's share price takes on the glide angle of a grand piano.
Bill Gates stares at his shoes like there's Bolognese on them.
Meanwhile in America, the Demonrats don't want a vaccine until AFTER the election (Nov 3), since that gives them the excuse to push that it's dangerous to vote in person because of the killer virus, thereby pushing vote-by-mail, which they can scam to their hearts' content with fake ballots and double voting. It's already happening.
Trump counters by stating that his Operation Warp Speed initiative will have a vaccine available BEFORE the election so people will feel safe enough to vote in person. All of a sudden, the Democratic hierarchy become anti-vaxxers! "We don't trust Trump and his vaccine! It won't be safe!" 5D chess.
Someone has made the helpful suggestion that they should first test the COVID vaccine on government officials. If the vaccine is good, they are safe. But if they die, the country is safe. Meanwhile no-one talks about vitamin C and vitamin D to boost immune system performance and avoid the flu forever. Can't make Porsche payments with vitamins, good diet and common sense.
THE PUSHBACK AGAINST TOTALITARIANISM
Citizens are rapidly catching on to the fact that the BLM/Antifa/Extinction Rebellion antics around the world are nothing but a distraction. A Marxist rollout to cow populations into submission to the New Order. In fact, it's identical to what Hitler and his Brownshirts accomplished in the 1930s, right down to harassing citizens in the streets, defunding the police. Oh, and that flag! Nazism was always a Cabal performance.
A BLM-inspired act on Britain's Got Talent triggers HUNDREDS of complaints to Ofcom. BLM protesters in DC are calling for the White House to be burned down, and are about to lay siege to the historic building for 50 days leading up to the election. Here's the full list of companies who are supporting BLM and Antifa. Boycott accordingly. Tell 'em, "Go woke, go broke."
The evil ones know their window of survival is closing rapidly in The Great Awakening. In fact, they are fighting for their lives. If Trump wins on November 3rd, they're finished. They are therefore expending maximum ammunition to stave off the inevitable. It's an exercise in futility.
Nothing will stop what's coming. Nothing.
Here's how the Democrats pull off smears against their political opponents, in their own words. The truth is about to bust out, and they are freaking. For instance, more people than ever before are waking up to the fact that never in the 100-year history of steel-reinforced high-rise building fires has any building ever collapsed, much less on its own footprint. On 9/11, exactly 19 years ago today, THREE DID. And a plane hit the Pentagon? Really? Watch this.
How about the Climate Change scam which bilked the taxpaying public of billions? The CIA's war on the human mind? The truth about the children, millions of them missing, stolen, abused by those in positions of power and trust? How about the BBC? How about the Satanic sickness called Hollywood? And Netflix?
Amid pathetic attempts by perverts to decriminalise the sexual abuse of children before the truth gets out; amid London protesters crying, "ARREST PRINCE ANDREW!" more abused children were found this week.
In Europe, German police raid 50 homes in an ongoing child porn investigation.
They just added 4 more child rape charges against an ex-police union president in Boston.
Imagine a mother's horror after her eight-year-old daughter's image is stolen and turned into a child sex doll, sold on Amazon for $559.
The first mainstream description of the hideous adrenochrome industry.
The dam is breaking.
SO WHAT'S REALLY GOING ON?
With all the absurd, unscientific posturing by politicians over COVID, who visibly don't believe a word of what they tell us; with all the doctors, medical experts and scientists who have broken ranks at great cost to their careers to protest the obvious hoax to the public; an ulterior playbook for all this does suggest itself. And I don't mean the Cabal's yearning to slam the Earth into some kind of global Marxist state a là Rockefeller Lockstep strategy and Agendas 21 and 30, which are now well known.
The preposterous extent to which leaders like Boris and Dan Andrews are seeking to corral populations at patently terminal damage to their own reputations points to a far bigger picture, for which such a sacrifice would be justifiable, the truth of which will become evident between now and the New Year, if I'm right - perhaps even after the election result in early November.
I have mentioned in the past that there are rumours, as yet unsubstantiated, that the lockdowns have been cover for huge tunnel-clearing operations, where thousands of abused children have been hidden under towns and cities around the world and bred for nefarious purposes in appalling conditions.
We know about the huge and lucrative sex trafficking industry, for which there is ample evidence. We know Trump has proof of crimes against humanity hinted at by General Flynn's attorney, Sidney Powell, carried out by elite personalities worldwide. The much darker side to all this, however, has yet to be revealed.
These unsubstantiated sources claim that Israel and Britain will be among the last to undergo clearing, hence the coming lockdowns. Make of that what you will. Myself and the team will continue to post what we find, and let you do your own research and come to your own conclusions.
What I can tell you is that the next two months are going to be extremely volatile worldwide, and we need to understand that together we stand, divided we fall, and our main mission remains to wake up those around us, however painful this process might be. Your friends and family know that something's really wrong. The mask thing and social distancing are a constant reminder. They're frightened. Be understanding, patient. Be a shepherd not a bludgeon.
We fight on the side of all that is wholesome and good. The New World Normal we are being shown should be anathema to every right-thinking person, and certainly should be enough to wake up even the Deep Sleep Sheep.
Here's a suggestion. Go to our excellent Meme Repository and start circulating the memes that seem right for you. Send them out to everyone – friends and family - you judge the tone. Let the memes do the talking for you. It's an important first step to making contact with those you feel you can't talk to directly. Do something brave. You'll like yourself for it.
Remember. All it takes for evil to triumph is for good men to do nothing.
Meanwhile, good things are happening as the evil is brought to light. Trump has been nominated for a Nobel Prize for Peace! Did you know that in addition to playing a major part in the normalisation of relations between Israel and the UAE, he has just engineered another breakthrough? Bahrain will normalize ties with Israel, and the Bahrain Crown Prince will be in DC on Monday to finalise, we are told.
We shall see!
Until next week.
PREVIOUS REPORTS IN PHILLIP'S WW3 SERIES
SITUATION REPORT PART 1 – COVID SUMMARY

SITUATION REPORT PART 2 – DEEP STATE SUMMARY

SITUATION REPORT PART 3 – THE ENEMY BECOMES DESPERATE

SITUATION REPORT PART 4 – OPERATIONS ONGOING: EYES ON

SITUATION REPORT PART 5 - THE DAM IS BREAKING, ENOUGH MUST SEE

SITUATION REPORT PART 6 - AUGUST WILL BE 'HOT' – MASKS AT THE READY!

SITUATION REPORT PART 7 - WELCOME TO THE RECKONING. IT'S GOING TO BE BIBLICAL
SITUATION REPORT PART 8 - AUGUST ON FIRE. DEEP STATE IN TOTAL PANIC
SITUATION REPORT PART 9 - BOOMS ARE JUST THE BEGINNING. THE WORLD IS WATCHING
SITUATION REPORT PART 10 – THE ELECTION INFECTION. THE SILENT MAJORITY IS SILENT NO MORE
SITUATION REPORT PART 11– DELETE THE ELITE! NEVER STOP YOUR ENEMIES WHEN THEY ARE DESTROYING THEMSELVES
SITUATION REPORT PART 12 - THE BATTLE COMMENCES. TWO ROCKY MONTHS AHEAD, THEN 'E' DAY!
WANT TO JOIN THE RESISTANCE?
Credence has a research group on the uncensored platform MeWe. It's easy and fun to use, and you'll be part of the action as it unfolds in real time.
Here's how to join:
Go to www.mewe.com. Set yourself up with a personal profile complete with pretty picture. Notice it says FREE FOREVER, so don't sign up for the premium thing, and skip the free trial.
Then enter https://mewe.com/join/credencehealth in your browser (not the MeWe search window!) and apply to join. Admins will then add you to the group.
Bring all your friends with you. Hundreds have done so already, so if you're not sure how to do it, any one of your colleagues on this group will be only too happy to help.