THE NEW WORLD ORDER
You know, that thing you always teased your conspiracy friends about. Now you're getting your free 1-year trial taster of the NWO to see how you like it. Punted to you by Klaus Schwab, another German who wants to remake the world in his own image. Who absolutely DOESN'T sound like every Hollywood James Bond criminal mastermind EVER.
The good news? The White Hats (the good guys/girls) are dragging this barefaced Marxism/Communism agenda out of the bushes and hauling it up on show for everyone to gaze upon and be dismayed. The people need to feel the fear and learn the lesson; know how close they came to suffering another totalitarian nightmare; their tacit compliance in its execution, a lesson to be seared into every adult psyche, into every schoolchild's questioning mind, so none of us have to suffer this evil again. At least not in our lifetime and that of our children.
It's a spiritual war. A war for the soul. And it will be back.
Much of the public has suffered the results of a poor, indoctrinated education. They don't often question things. And when they do, don't feel there's anything they could do to make a difference. Content to live a lifestyle their ancestors would have drooled at. A life lived on autopilot.
Then the world changed.
Changed in ways most people could scarcely imagine.
THE GAME IN PLAY
So how do you usher in a Communist World Order? Here's how.
Create a crisis (COVID).
Now create a massive, media-driven reaction to this crisis, all for the public's safety and security, of course.
Encourage or fake the public's huge support for the measures you intend to enforce to solve the threat.
The measures do the damage. Enforce lockdowns. These will smash not only national economies but also the public's independent sources of wealth: small businesses, investments, a regular job.
This in turn creates more chaos and fear, and compels millions to become dependent on over-bloated government, and desperate for furlough payments or meagre universal basic income to survive.
Dominate the media narrative. Which is, "There is a grave crisis. The public-spirited thing to do is for us to introduce emergency measures. It's what the public wants." These measures result in a loss of freedoms for the public, but will be tolerated in return for the empty promise of peace and safety and a return to some kind of a Normal.
Yes, a New Normal. Not the one you thought you were getting.
Proclaim that anyone who objects to these measures is an enemy of the state and a menace to their neighbour. Get neighbour to enforce the rules on neighbour.
Ban independent media and Bibles under hate crime laws. Tell the population that such things spread dissent and will not be tolerated. Think China.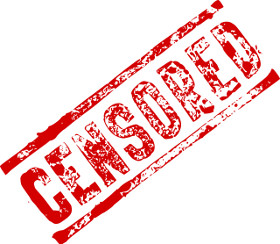 Censor or take down dissenting social media accounts, such as Facebook, Twitter, YouTube, etc.
Aggregate more powers to local and national politicians.

Compile lists of dissenters to be rounded up and arrested.
Encourage media personalities to make public statements in favour of punishing dissenters (though some get caught in problems of their own making).
* * * * * * * *
CANOEING DOWN THAT LONG RIVER IN EGYPT CALLED DE-NIAL
"Enough! That's all just a conspiracy theory!"
You're the one wearing the mask, sunshine.
Break the public's individual and collective will to resist, through implementation of the following measures:
Propagation of conformity triggers such as fear, anxiety, masks, social distancing, track and trace, dysfunctional hand-washing and sanitising, a ramped-up muscular police plus army on the streets, public shaming for non-conformity, those snitch hotlines, next door's twitching curtains.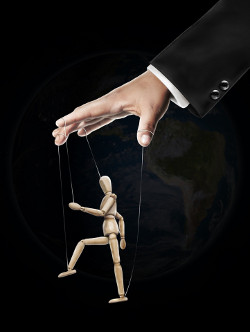 And, of course, the Bill Gates Vaccine From Hell. Now ready for distribution by clever scientists for YOUR benefit… enforced by the Army for YOUR convenience.
Fast-tracked. Improperly tested. Already causing problems for some who've had it (always denied). Long-term effects unknown. Trust us, everyone wants it, though those cursed anti-vaxxers bring the average down a bit.
"The vaccine is 90% effective against a virus which is 99.97% survivable." Eh?
Anti-vaxxers threaten your health. They should be rounded up.
And put into camps. For YOUR protection.
You know, 'Quarantine Camps'.
The trigger for the global takeover was COVID, the greatest psychological operation ever forced on humanity.
Convince healthy people they're sick and must do what you say.
Because you're an expert. And because it's called science.
CATCHING ON
In fact, the Cabal never needed a virus. The mere threat would suffice. Public anger became kindled when the truth oozed out.
NO VIRUS? No virus. Nope. You were fooled. You took in the lies.
We've covered this in previous reports. For the benefit of those new to this, still grappling with Stockholm Syndrome, here are the welcome facts: There was never a pandemic. No bodies piled in the streets. No COVID germ was ever isolated. The test is fake, and here's the proof.
Yes, people DIED, but not from any 'novel virus'. People always die. Especially those over 82.
And for the record, masks compromise your immune system by restricting oxygen intake. Protracted use causes problems resulting from rebreathing of your own bacteria, which can result in staph infections, bacterial pneumonia, pleurisy, etc., which can be diagnosed as, you guessed it, COVID, or in times gone by, the so-called Spanish Flu.
The people doing this to you are sick and evil. At this point, you just don't know how sick and evil they really are, but you will. The truth will stupefy the world. It will be your choice to know.
For the record, I don't know anyone who ever got 'COVID' or died from it. People get the flu and pneumonia, the same as they ever did, and some die from these illnesses, the same as they ever did, especially when highly effective, Pharma-embargoed metabolic treatments may have saved them.
No new 'killer virus'. Nope, sorry.
The flu and pneumonia stats have been conflated with just about every other cause of death to satisfy the ludicrous official definition of a 'COVID death', viz: "A COVID death is any death which occurs within 28 days of a positive COVID test." You can write your own totalitarian ticket with that one.
What's creeping you out? Is it because your government is lying? You know they're lying? And they know you know they're lying?
The public sees this. The torturing and killing of old people in care homes. In America, it doesn't end there. Once you're dead, you then get to vote for Joe Biden in the presidential election. I told you these people were sick.
And now the public is wising up to the ulterior agenda. And where it's headed. And the ultimate disaster if ever it gets there.
The good news? The master plan of the evil ones has failed.
RATS IN A TRAP
The stench of élite panic now hums the air. One by one, the lies ooze out, melting the public's trust in the mainstream media (MSM).
Boris Johnson is compelled to admit major errors in coronavirus forecasts that were used to justify the lockdowns and destroy Britain's economy.
Like a broken record, the MSM can only rehash its daily COVID and anti-Trump "Orange Man Bad" mantras because their only other tactic - mass riots by drug-addled zombies – is on hold for now, though soon to be reprised.
Police in certain areas are furious at being forced to act against the citizenry. Most don't make a fuss because they have families to feed and house payments to stump up for.
Daily, more citizens aren't buying the whole shebang but don't know what to do about it. So the White Hats crank up the drama to wind up the coming public whiplash against the evil ones once their real crimes are exposed.
What lies at the heart of your own anger at what's occurring? Is it this?
"For pity's sake! All I wanted was to live in peace, raise my kids, take them to school where they won't get fed Marxist rubbish, go to work, have a holiday, enjoy the freedom to do what I want, and make a better future for our family!"
Amen to that. But that all looks a bit thin now, doesn't it? Which should fuel a righteous anger within you for a reckoning.
Do you know that there's never been a time in your life when you had REAL justice?
Good. Let the fury build. It's righteous fury against the evildoers. You're not going to take it any more! You can sleep with your wife but can't play tennis with her? You can shoot ducks but can't feed them? Boffins scare you with graphs, then change them…?
Yes, and boffins can fiddle…
ELECTIONS
Last week saw the first reports of a wildly rigged US presidential election. This week, a few new words entered the lexicon: Dominion, Hammer and Scorecard. As proof rapidly emerged of treason on an epic scale, the MSM proclaimed Joe Biden the winner with indecorous haste.
Except the media had zero authority to do that. But call it they did – and Joe Biden gleefully accepted becoming the 46th President-Elect of the United States, even though the liar stated in September, "I will not declare victory until the election is independently certified."
You know Joe Biden. That guy who can't hang a verb on a noun. The groomer of children. The Chinese-funded traitor who sold out his country. Now gleefully calls for nationwide mask-wearing while announcing the forming of a COVID-19 transitionary advisory board, complete with nationwide network of contact tracers (professional snitchers).
In fact, Joe Biden says the transition can proceed without the Trump administration's cooperation. So, that would be a coup.
HOLD YOUR HORSES
Fact is, this election is far from over. In fact, it's just about to KICK OFF.
Federal attorney Sidney Powell says 450,000 ballots miraculously only have a vote for Biden. Ms Powell's really not happy. She further declares it likely that 3% of vote was changed in the pre-election ballots that were collected digitally using the software programs HAMMER and SCORECARD.
A lawsuit is filed, claiming 100,000 non-citizens registered to vote in Pennsylvania.
Analysis shows more than 10,000 dead people cast ballots in Michigan. Guess who for?
One county, Wayne County, Michigan, are saying "that there was a batch of ballots where 60% had the same signature... 35 ballots had no voter record... 50 ballots were run multiple times through a tabulation machine..."
The MSM's reaction? There is not a scintilla of evidence that election fraud has taken place.
Really? These are some of the people who voted in Pennsylvania…. Folks alive at the time the American Civil War. Must be something in the water in the Keystone State.
The US Justice Department tells prosecutors armed federal agents can be sent to examine the ballot-counting locations. All right then.
US postal worker-turned-whistleblower Richard Hopkins goes public; confirms federal investigators have spoken with him about Postmaster Rob Weisenbach's order to backdate ballots to November 3rd, 2020.
Witness actual votes stolen live on TV!
Corrupted software used in Michigan County that stole 6,000 votes from Trump was also used in ALL SWING STATES — PA, GA, NV, MI, WI, AZ, MN
The Federal Election Commission Chairman drops a bombshell: "This Election is illegitimate." No sh*t, Sherlock.
And as final proof of all these bally shenanigans, it appears bookies in Ireland, including Paddy Power, are not yet paying out on the results of the US election.... Begorra!
OOOOPS, PANIC
President Donald Trump knew all this was going to happen. Was warning for months that this had the potential to be the most corrupt election in American history. Traps were therefore laid to catch the guilty, the first of which were foreign leaders who fell over themselves to congratulate Biden on his 'win'.
"Still special! Britain's relationship with US gets a boost as Boris Johnson leapfrogs Macron and Merkel to be FIRST European leader to have a call with Joe Biden (but there's NO mention of a post-Brexit trade deal)."
Haha. Joe Biden couldn't give a monkey's about Britain.
Can't even find it on a map.
Trump's Secretary of State Mike Pompeo answers the question, "Is it improper for foreign leaders to be talking to Joe Biden at this time?" Classic response.
The media begins frantic backtracking here, here, and here. Oh, and Adam Boulton panicking – sweet. And here's why the media don't call elections. And this won't age well either.
John Brennan, ex-CIA Chief under Obama, urges a palace coup against Trump so he doesn't "declassify everything".
Trump doesn't give a monkey's about John Brennan. We're watching a movie. In between playing golf for two days and generally slacking off, President Trump commences an initial purge of some in his administration.
Secretary of Defence Mark Esper is fired, along with the heads of three other federal agencies. Other Deep State worms are publicly made to squirm. Donald also appoints a veritable Witchfinder General as his new acting Undersecretary of Defense for Policy. This does not look like a president who's preparing to leave office soon, especially since a ton of votes remain to be counted.
And checked.
And certified.
And the traitors arrested.

And so, as we come to the close of his first four years in office, Donald J Trump can justifiably look back on what he has achieved over the past 48 months with some pride; triumphs to startle, yet never shown to the American and world peoples in the way that they should. And that should be a crime.
Click here, and scroll down to
WHAT HAS TRUMP ACTUALLY ACCOMPLISHED SINCE HE BECAME PRESIDENT?
The stage is set.